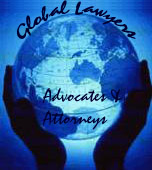 Global Lawyers
287, Block # 2
Lawyers Chamber,
Delhi High Court
New Delhi, INDIA
CELL (0091) 9810153965
Cost Effective Legal Solutions india delhi usa singapore uk advocates litigation corporate law
Global Lawyers, a corporate and commercial law firm, offers a full range of legal services including all kinds of arbitration and litigation to Indian and international clients and corporate as well. The major problems for people from overseas is the exorbitant and prohibitive litigation cost/ lawyers's fees being charged across the country. Our aim is to reduce the cost and fees of our clients to the bare minimum, while delivering the effective results by the highly qualified dedicated and sincere team .The firm believes in providing high-quality legal services in a cost-effective and solutions oriented manner within impeccable response time. It has dedicated teams handling all fields of litigation including civil, criminal, corporate and commerical.
Global Lawyers, focuses its practice in all areas of litigation, corporate and commercial laws as per firm profile. It serves the entire range of needs of the corporate and business community including in-bound and out-bound investments, joint ventures, mergers, acquisitions and divestitures, corporate and business re-structuring, spin-offs, capital raising, banking and other financing, life insurance, general insurance and re-insurance, real estate, technology law, franchising and licensing, competition law, telecommunications, information technology, media, entertainment, employment laws, taxation - direct and indirect, intellectual properties, infrastructure projects and all kinds of litigation.
Lawyers, law firm delhi india, law firm london, law firm singapore, aviation lawyer, civil lawyer, litigation lawyer, arbitration, intellectual property lawyer delhi, criminal cases delhi india, corporate litigation supreme court india