Global Lawyers
287 Block # 2
Lawyers Chamber,
Delhi High Court
New Delhi, INDIA
CELL (0091) 9810153965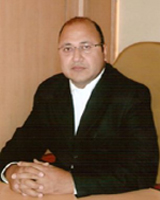 Shyam Sharma
Managing Partner
Education:
University of Delhi (B.Com, 1989)
University of Delhi (L.L.B, 1993)
Inter Cultural Open University,Amsterdam, Holland

(Ph.D, 1997)
Languages:
Hindi, English, Punjabi

Corporate and Commercial Litigation, Criminal Litigation, Arbitration, Alternative Dispute Resolution, Foreign Investment, Real Esate. Shyam has been practicing law since 1994. He has worked with one of the premier litigation firms of Delhi and founded Global Lawyers in Delhi in 1996, as a solo practice. Shyam provides both hands on Legal advise as well over all strategic inputs. Shyam has undertaken significant criminal and commercial litigations – both International and Domestic, issues relating to monopolies and Restrictive Trade Practice and Franchise, Criminal proceedings arising out of commercial transactions and has extensive experience in litigation of civil and criminal nature. In the recent past, he has advised and represented key clients and has conducted high profile litigations before various High Courts and Supreme Court of India. Moreover Shyam has extensively traveled through out the Globe for addressing and advising various Legal issues and has legal acumen for cross border transactions and International Legal conferences in USA, UK, Germany, Singapore, Mauritius, Srilanka, Dubai (UAE), Pakistan.

He is into the Executive Member of Asia Pacific Jurist Association.
Association with Legal Bodies:
Hony. Gen. Sectary Lawyer form for civil liberties ( LFCA )
Member Executive, Asia Pacific Jurist Association ( APJA )
President Peace Project Earthstewards Networks.
Associated with
Commonwealth Human Rights Initiatives
Enrolled at Bar Council of Delhi
Members of:
Supreme Court Bar Association of India
Delhi High Court Bar Association
Delhi & New Delhi Bar Association
MRTP Bar Association